A note from the author: Our camping trips with other homeschooling families are extremely important to my kids and I. We cherish these trips and remember them fondly. They are valuable to us because we have a chance to get together with other homeschooling families in a casual and recreational way, because we make and deepen friendships, because we have a chance to explore new places, topics and situations and because learning is happening all the time. Here is one of our camping stories from the summer of 2004. I hope you enjoy it. We look forward to our next camping adventure and hope that you have a chance to experience one of your own.
On Saturday morning, I sat outside surveying the fields of green grass opposite the campsite and greeted the new day with a smile as I wrote. My two children were already running around playing with friends at our unschooling campout so I had time to reflect.
I discovered the wonderful timelessness of camping out. I left my watch in my purse in the trunk of the car and didn't care what time it was. We ate when we were hungry, went to bed when we were tired and woke up when we'd had enough sleep. I loved it! No time restraints, no plans or social obligations, no extended family expectations - we just hung out with friends, discussing the intricate details of our daily lives, the philosophical ideals in which we believe, the dreams for which we live, the people we love. At the same time, children of all ages (ranging from five months to fifteen years old) played and talked together, inventing new games, creating new social interactions. One afternoon Lexi (age 9), Amber (age 10) and Adrienne (age 12) were discussing how they probably wouldn't even be friends or know each other, if they were in school. Instead, they look past age discrimination and share with each other.
All day - out in nature - surrounded by green forests, shimmering lakes, a postcard-blue sky and the bright yellow sun. Many of us went swimming on Saturday because that was the hottest day. All day - we shared food, prepared together with love, cleaned together in friendship.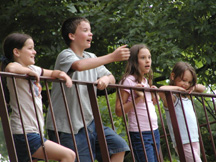 I enjoyed the fact that adults and kids interacted as well. Together, they played sporty games in the large field of grass, discussed many topics and explored science experiments such as Gideon's attempt to see how long it would take before his marsh mellow burned all the way down or Jace's trial to burn a watermelon rind or Zac's contemplation on whether or not watermelon rinds would make a good suit for firemen. And, if that wouldn't work, would turtle shells do the job? (Of course, only turtle shells used by deceased turtles as there was concern that said idea would result in termination of turtles). In the evening, Lexi read a scary story to us by flashlight around the campfire, and we listened to Zach strumming on his guitar or a CD of Ashley's music.
The older kids looked out for the younger ones like Gabrielle helping Laina or Victoria playing with her brother, and Halle enjoyed taking care of her dog.
We watched fireworks from the Lake Fest, adding a celebratory tone to the weekend, which perfectly complimented the cake decorated with "Celebrate Unschooling."
We enjoyed simple pleasures like snuggling with our children while listening to the rain dance on the tent or watching the myriad colors of fireworks exploding in the dark sky and reflecting in the sparkling water.
Altogether, a total of around twelve families visited - most local unschoolers but also one family from out of town. Old friendships forged deeper while new ones emerged.
There were drawbacks - walking one hundred and fifty feet to the bathroom, applying and reapplying sunscreen and bug protection, chasing errant dogs, hauling water for washing dishes and cleaning up in an old, public shower. Still, nothing can negate the positives I mentioned before, and I don't know that I'm ready to go back to the grind of daily life. Maybe, though, I can learn lessons and take back with me some of the positives. Give up my warm bed and private kitchen and bathroom? No thanks. Throw away every clock and watch? Nah, wouldn't work when I teach ESL a few evenings a week. Nevertheless, I'm glad we had this time to soak up the wonders of this trip, connect, reconnect and play. In the end, I return home strengthened, renewed and ready for anything.
Copyright 2004 Rachel Johnson